The background story: a small city in Iowa narrowed its choice of sweepers to two competing machines, an Elgin Pelican and a Global Sweepers M3 model, both capable sweepers. Although both machines meet the city's specifications, in this particular instance the Global sweeper was bid at a lower price with the standard configuration of curb brooms on both sides.
However, because the Elgin Pelican requires dual steering and other in-cab componentry for sweeping both sides of the street, it became less expensive when the left side curb broom was omitted. So, the city managers' decision at press time was to purchase a single-broom Elgin sweeper, although with the knowledge that it would be used against the flow of traffic, in some instances; specifically, on one-way streets and around center islands.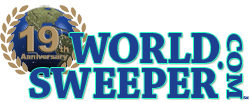 WorldSweeper.com was contacted to see if we had ever written an article on the topic of the advisability, safety and legalities of sweeping against traffic on a one-way street because what you had was a sweeper with only a single curb broom. Since we had not previously done so, we decided it was a topic that needed to be covered. First, we set out to see what other experts had to say on the topic, because we thought their answers might provide the best basis for decision making for anyone faced with a similar decision in the future.
Perhaps the leading information resource for any municipality trying to decide about sweeping against traffic flow would be uncovering the state and local regulations that might cover the situation. These would, of course, be different for each state. However, in the state of Iowa there are two code sections that appear to apply:
Section 321.305 One-way roadways and rotary traffic islands.
1. Upon a roadway designated and signposted for one-way traffic a vehicle shall be driven only in the direction designated.
2. A vehicle passing around a rotary traffic island shall be driven only to the right of such island.
Section 321.366 Acts prohibited on fully controlled-access facilities.
It is unlawful for a person, except a person operating highway maintenance equipment (emphasis added) or an authorized emergency vehicle, to do any of the following on a fully controlled-access facility:
3. Drive a vehicle except in the proper lane provided for that purpose and in the proper direction and to the right of the central dividing curb, separation, section, or line."
Click here to read the report can be read in its entirety.
GLOBAL Is Listening To Your Needs...
Global Environmental Products, Inc. is committed to continually improving our street sweepers. Emblazoned on the side of every sweeper we sell is our promise of that commitment "reliable – affordable – innovative". To that end, 2012 saw Global make standard a couple of options that our customers were continually asking for.
The Rear Vision Camera and the "Ergo" or Return To Sweep switch became standard equipment in 2012, with no increase in the base cost of the units.
We are continuing that focus in the 2013 model year. At the 2012 APWA show in Anaheim, CA Global rolled out it's new body style for 2013, featuring a "low profile" look. This change is more than just cosmetic. The fold down dump shoot is actually several inches longer and increases the discharge distance of debris while decreasing the maximum height of previous vehicle that had fixed dump chutes. Additionally, Global has begun to incorporate some fiberglass body panels that will allow for a sleeker design with a reduced overall vehicle weight and propensity for rust and corrosion.
Global will never stop improving our sweepers. As long as a change does in fact improve the reliability, performance, safety and affordability of the machine, Global will make those changes. While our competition has attempted complete overhauls and wholesale design change of their sweepers, Global believes strongly that we have the best overall 3 and 4 wheel mechanical sweepers on the market and that simple refinements over time will continue to separate us from our competition.
With this in mind, look for a couple more improvements on our machines in the months to come. Our Engineers and Research and Development team has been diligently planning the next phase of improvements that is certain to please our customers and keep the competition guessing.
Global Environmental Products, Inc. Salutes
Brown Equipment Company, Inc. -Long time dealer has an excellent 2012 campaign
There was little doubt that Brown Equipment was going to have a successful 2012 representing the Global product line. If you have been around Global (Johnston/Allianz) mechanical street sweepers for any length of time, chances are high you have heard of Brown Equipment Company, Inc. Brown Equipment was incorporated in 1968 by Ralph E. Brown, in Fort Wayne, IN. In 1975 Doug Brown joined his Father and learned the ropes "sweeping floors, welding, painting and eventually marketing." Over time and through his travels, Doug incorporated many traits he saw other successful equipment dealerships employ, nurturing a highly respected reputation in the industry.
In 1984, Brown Equipment signed on as an FMC Street Sweeper Dealer and has
been perfecting the art of selling and servicing 3 and 4 wheel mechanical sweepers ever since. Through the years Doug and his team have grown to dominate their market and are a true testament to their company's philosophy: "The salesman may sell the first piece of equipment, but it is quality service that keeps the customer coming back!" Their knowledge of the Global sweeper product is deep and they have an exemplary record of servicing and re-building street sweepers, guaranteeing their customers receive the longest and most productive life cycles for their machines.
The family tradition of excellence is continuing strong today. Doug's Son, Scott Brown, came on board in 2010 and has demonstrated a passion and focus of offering excellent service to Brown Equipment's government and private sector customers.
Global is proud to have Brown Equipment Company in our arsenal of quality dealers and we are very excited to work closely with Brown for many successful years to come.
For more information on Brown Equipment Company, you may visit their website www.brownequipment.net or contact directly at: (800)747-2312
Visit Our New Home!
Global Environmental Products has moved. We are actually right up the road from our first location, but we are excited to be in the new facility at: 5405 Industrial Parkway, San Bernardino, CA. The new location will offer Global the much needed room to grow. At 104,000 square feet Global has an even better ability to meet growing product demand and reach our customer's needs.
5405 INDUSTRIAL PARKWAY
SAN BERNARDINO, CA 92407
PH: (909) 713-1600
WWW.GLOBALSWEEPER.COM
There has always been an open door policy at Global for our dealers and customers and we welcome anyone that would like to make the trip to see the new facility, meet our team and see their sweepers on the production line.
Please below on the link to download a PDF copy of this Newsletter...